Different products with just one of this servo press:

Rotation Motion
Pendulum Motion
Aren't you using different presses in stroke length and production speed, though pressurizing capacity is the same?
With drawing:
Generally with drawing, forming products are high in height and drawn from high slide position. Therefore, a press of long stroke length and of high workload has to be used.
With progressive forming:
Generally with progressive forming, products are low in height and production numbers are many. Therefore, a press of short stroke length and of high production speed (SPM) is needed.
Many different presses may be necessary:
Previously therefore, different types of press had to be used for different types of product. Sometimes, companies had to purchase a new machine to widen their product range.
Just one press of ours, having long stroke length of No. 1 among competition and combining with pendulum motion, makes both general-purpose use and high productivity compatible.
With the longer stroke length, production speed is the same or faster than conventional machines! It provide you with wide general-purpose applications.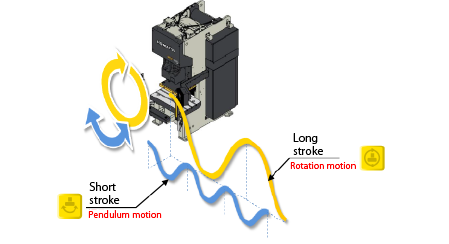 It has the long stroke length, of No. 1 among competition, to cope with variety of products.
Setting at the lowest stroke length to meet the product height with the pendulum motion, high productivity can be achieved.
With this servo press of excellent versatility, you can flexibly respond to the market variation.
Stroke length is No. 1 among competition:
The stroke length is longer even than that of our previous servo presses by 20 - 33 percent.